History of the Surname
The Wheelock name is said to derive from the Welsh word "chevel-og", meaning "winding river".1 (For an alternative view of the surname origin, see [12]).
The Wheelock family origins can be traced back to the 12th century (during the reign of Henry II), in the County of Cheshire, England, where the village of Wheelock now stands. Sometime in the late 12th century Roger Mainwaring released to Hugh de Whelok all his claim to the Manor of Whelok. Hugh de Whelok and his offspring later acquired more of the surrounding lands; and thus the village of Wheelock came into being.
In 1459 the Manor of Wheelock passed to the Leversage family (who had married into the Wheelock family).1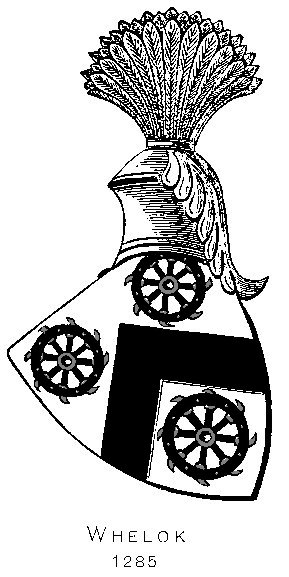 The Wheelock coat of arms, shown here,3 consists of a "chevron between three Catherine wheels of Sable".2 It is similar to the Leversage coat of arms: "a chevron between three plough-shares erect Sable". The crest, shown in the picture, appears not to be "officially granted", and is shown for adornment purposes only.9
In 1637, Rev. Ralph Wheelock, a highly educated graduate of Clare Hall in Cambridge, England, emigrated to Massachusetts, with his wife Rebecca, and several children.4 He was a dissenting preacher, and the motivation to emigrate was no doubt a result of the religious persecution that ran high during this period of England's history.
Rev. Ralph Wheelock was a Puritan, and played an active role in establishing the townships of Dedham and Medfield, Massachusetts. He preached frequently, but never had his own ministry. His ambitions were oriented toward teaching. He was the first headmaster at the first public school in Dedham (which probably was the first public school in the colonies). He was chosen to "take up a collection for Harvard", and thus played a role in raising funds for the first college in America.6
It is likely that most people in the United States with the last name of Wheelock are descended from Rev. Ralph. He and his offspring had many children, over the course of many generations. His progeny are many.
But not all Wheelocks in the United States descend from Ralph. There is a line of Wheelocks in South and Central America, many of whom now live in this country.7 It has been shown that this line descends from somebody other than Rev. Ralph Wheelock. In addition, there is at least one family of Native Americans, Oneidas from upstate New York, now living in other parts of the country, that aquired the Wheelock surname sometime in their history. The exact circumstances of this are not yet known, but research is ongoing.8 There is a line of Wheelocks from Ireland, founded by Charles Wheelock, who was born near Dublin in 1789, and came to New York City in 1810. Many Wheelocks descend from Charles, including the abolitionist Edwin Miller Wheelock who was his son.11
No doubt there have been numerous Wheelock immigrants after Rev. Ralph Wheelock. There are records of an Abraham Wheelock sailing from London to Virginia in late 1673 on the ship Martha. There is another record of an Abraham Wheelock sailing from London to Virginia in 1677 on the Good Hope.5 However, Abraham appears to have been a shipmaster, and not an emigrant.10
The Wheelocks were at the leading edge of westward settlement in colonial America. Many towns were founded by Wheelocks, including Dedham, MA, Medfield, MA, Mendon, MA, Calais, VT, Wheelock, TX, Hanover, NH, Lubbock, TX, and probably others. Eleazer Wheelock, great grandson of Rev. Ralph Wheelock, founded Dartmouth College in New Hampshire, thus perpetuating the teaching tradition so close to the heart of Ralph. Another educator, Lucy Wheelock, founder of Wheelock College in Boston, Mass. was probably also a descendant of Rev. Ralph Wheelock.
Written by Roderick B. Sullivan, Jr, Dec 2000, updated Dec 2014
Sources and References
"History of Sandbach and District", Cyril Massey, Published 1982
"History of Sandbach, Holme Chaple and Goostrey", J.P. Earwaker
Coat of arms from "Ralph Wheelock, Puritan", by Rev. Lewis Hicks, scanned in by Harlan Wheelock Stockman Jr., further modified by Thomas Wheelock to show the sable (black) colors of the chevron and Catharine wheels.
It has been suggested that Ralph Wheelock sailed into the port of Rehoboth, Bristol, MA on the Bevis, but no confirming reference has yet been found.
"Complete Book of Emigrants, 1607 - 1776", Peter Wilson Coldham
"History of Medfield Massachusetts, 1650 - 1886", William S. Tilden
Correspondence with Norman Michael Wheelock, descendant of Tomas Wheelock of Peru.
Correspondence with Anne Wheelock Gonzales, member of the Oneida Indian tribe.
Research of Thomas Wheelock, England, Jan 1999.
The Abraham Wheelock who emigrated in 1673 is probably the same Abraham Wheelock of Middlesex, England, that filed a will Aug 1673, "being now outwards bound on a voyage to the seas and with all considering the dangers hazards ..." Documents are found in the Public Records Office in London stating that Abraham was the shipmaster of the Martha and the Good Hope, which would suggest that he did not emigrate to the colonies, and did not establish a line of Wheelocks in the United States. (Will: Prob 11/372, Public Records Office, London; Documents: E190/59/1 and E190/72/1, Public Records Office, London; thanks to Thomas Wheelock, London, UK, for the research on Abraham Wheelock)
From the records of Sandra Smith, a descendant of Charles Wheelock, Nov 2001.
"Was Hugh de Whelock a Norman from France?", by Kevin R. Wheelock, 12 Feb 2011, and "Addendeum to Was Hugh de Whelock a Norman from France", 1 Sep 2014.