Biography of Oscar Merrit Wheelockk
alias Oscar G. Creighton, (1877 - 1911)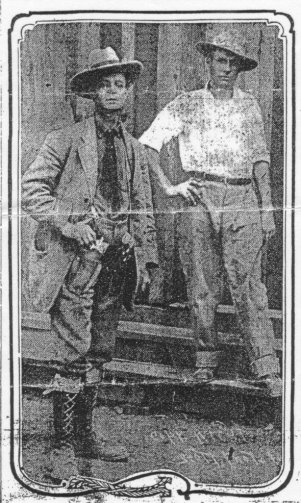 Oscar Creighton on the left, taken three days before his death at Bauche.
Oscar Merritt Wheelock, alias Oscar G. Creighton "the dynamite devil", is noted for his short life of intrigue and bank robbery in the United States, followed by a burst of heroism during his short but highly publicized participation in the Mexican Revolution. His feats of courage and bravery were publicized internationally, and his efforts contributed directly to the success of the revolt. Wheelock lost his life in the Mexican Revolution, having died a hero. In 1951 he was awarded the Legion Of Honor by the Mexican government; but in the United States his acts of embezzlement and bank robbery cast him as a common criminal. The facts of this man's life can be found in archives, newspapers, and vital records of the time; but the motives that led him to abandon a middle class life for a life of crime and war will remain a mystery forever.
He was born 10 January 1877 in Danvers, Massachusetts, the son of Joseph Robbins Wheelock and Juliette Childs Dearing (MA Archives, 288:232). Named after an uncle on his mothers side, he grew up in the relatively sedate Boston suburb of Somerville, Massachusetts where his father worked for the railroad. He was probably educated in the public schools of Somerville. One newspaper reports that he attended Harvard (NY Times, 1911), but records of such attendance could not be found. His brother, Frank Robbins Wheelock, attended Somerville High School, then Harvard Medical School, and became a prominent doctor and noted expert on tuberculosis.
Oscar was a bookkeeper, living in Somerville, MA, when he married Frances Gertrude Gateley in June, 1904 (MA Archives, Somerville Vital Records, see note 2). For the next few years the couple lived in Somerville, where Oscar appears in 1908 and 1909 city directories as an auditor. Frances died of chronic tuberculosis on 26 July 1909 in Somerville (MA Archives, VRs), just five short years after their marriage. They had no children.
Shortly thereafter, at the age of 32, his life took a sharp turn. His sedate middle class life was about to change.
In January 1910 he was charged with missappropriating $9200 from the Massachusetts Bonding and Insurance Company, where he worked. He fled Massachusetts for Butte, Montana, where he gained employment at the National Packing Company. He married Miss O'Malley, said to be a cousin of the mayor of Butte. (This is reported in the Boston Traveler, Tuesday, 6 June 1911, but no record of this marriage was found in the Massachusetts or Montana Archives, see note 3. More information about the time Oscar and Winnie spent in Butte can be found in this essay written by Larry Lashway, see note 9). He may have gone to San Francisco as well, because he is charged with robbing banks there, and in the next few months the police initiated a nationwide search for Oscar Wheelock, catching up with him only after his death (see note 4).
During this time he continued his old practice of embezzling money from his employer. He was eventually caught. On New Year's Eve, 1910, he wrote his last will and testament in Butte, Montana, leaving everything to his wife, Winnie. He then packed up and left for Mexico.
Oscar Wheelock joined the Mexican Revolution in January 1911, under the pseudonym Oscar G. Creighton. The 6 June 1911 Boston Traveler reports the story as follows:
"Troubled by the spectres of his past, Wheelock arrived in Mexico last January, when the insurrecto movement was in its infancy. One day he stood on the firing line at Bauchi ... as a spectator. Orozco and Villa, the insurrecto leaders, noticed him, and engaged him in coversation. Although bullets sang about his head he did not flinch. The upshot of this talk was that he was offered a commission in the army, and accepted."
The article goes on to say that Wheelock outfitted a band of American outlaws, at his own expense. They didn't stay with him long. To a person, they felt that Wheelock was too "nervy". In his few short months as a rebel, he gained a remarkable reputation for acts of daredevil bravery.
In March, General Madero ordered Wheelock with a band of 40 scouts to run all the ammunition they could over the border and destroy all bridges and railroads. While executing these orders, Creighton earned his nickname as "the dynamite devil". He destroyed over 250 miles of railroad track on the Mexican Central Railway, effectively disrupting rail traffic, telephone and telegraph communiction between federal troops and their command bases. Most of these operations occurred within a few miles of Juarez, where 1000 enemy troops were garrisoned, and where a bounty of "$5000 in American gold" had been placed on his head.
Newspaper articles are filled with stories of heroic bravery. The 6 June 1911 Boston Traveler tells the following story. While running ammunition across the border, Wheelock and his 8 men came upon a force of 150 federal troops blocking their way. Confronted by this superior force, one of the 8 deserted. Vastly outnumbered, Wheelock with his remaining 7 men cut through the enemy troops, killing 8 of them. Only one of the Wheelocks men were killed.
Wheelock played a key role in the capture of Ciudad Juarez which ultimately led to the fall of the Mexican government. It was strategically important to control the railroad station at Bauche in order to isolate the Federal garrison in Juarez, and cut it off from supplies. Bauche was 16 kilomoters south of Juarez. On 15 Apr 1911, during the second battle of Bauche, Wheelock died holding a weak point in the line. The Boston Traveler (6 June 1911) tells the story like this (paraphrased):
While seated at lunch in his tent with Col. Giuseppi Garibaldi and other officers, a soldier rushed in announcing that the federal troops were advancing. Wheelock left immediately for the front line. Upon arrival he surveyed the situation, formed a detachment of 50 men, and proceeded to lead them into a flanking position. Just then a force of 200 additional federal troops came into view. Frightened, 20 of Wheelocks men started to retreat. In an attempt to rally the troops, Wheelock and two other officers rode to the top of a hill, exposing themselves to the full view of the enemy. The three officers fired at the federal troops. A crack shot, Wheelock dropped one of the federal officers immediately. Responding with rage, the federal troops directed a disastrous volley of fire at the three officers on the top of the hill. Wheelock and one of the others were killed immediately, shot through the head.
Despite Wheelocks death, the line was held and reinforcements arrived, led by Pancho Villa, Giussepe Garibaldi, and Pascual Orozco. With Bauche firmly under control, Juarez soon fell, and the peace treaty was signed on May 21st.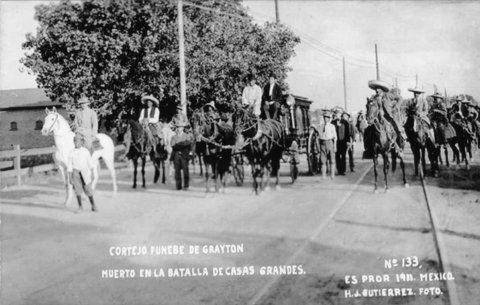 The funeral procession of Oscar G. Creighton, 1911, Juarez, Mexico.
Wheelocks death in battle converted him into a true hero and martyr of the revolutionaries. Shortly after the fall of Juarez, Wheelocks body was exhumed from his grave in Bauche and carried through the streets of Juarez in a grand funeral cortege for his final trip home, to Boston. The procession was captured in a postcard photograph by H. J. Guitierrez. The mislabelled photograph, which refers to the subject as "Grayton" rather than "Creighton", was properly identified by Professor Douglas Nance, Universidad La Salle Nezahualcoyotl, Mexico City.
When Oscar left Butte, Montana for Mexico, he left not only his name behind, but his wife, Winnifred, as well. During his few short months in the war, he posed as a single man, and became engaged to Miss Frances Hughes, a daughter of one of El Paso's prominent families. (The Washington Post, 21 Apr 1911, pg 3). A local scandal ensued when Winnifred arrived in Mexico to receive the body of her husband. Apparently, Oscar had said nothing about Winnie. Nonetheless, Winnifred I. Wheelock was evenutally successful in receiving a pension from the new Mexican government as a widow of the revolution. She received the relatively large sum of 2000 pesos, the only foreigner to receive a pension.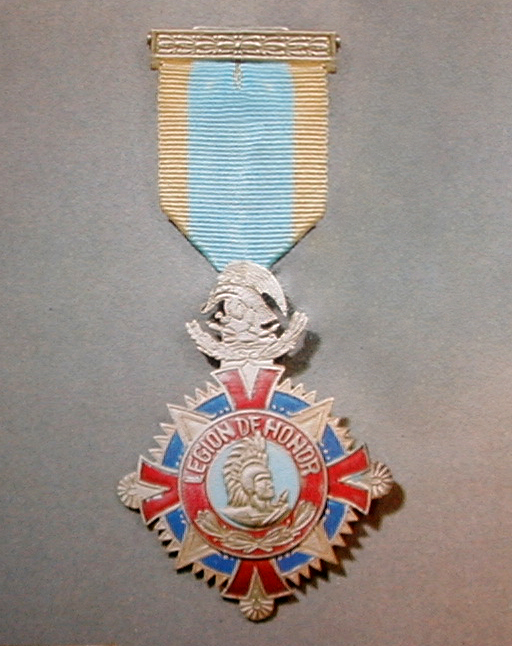 Medal of the Mexican Legion of Honor awared to Oscar Creighton (Army & Air Force Museum)
In June 1911, Oscars body was returned to his mother, Juliette, in Somerville, MA. The 6 June 1911 Boston Traveler writes: "He left Boston in January, 1910 ... He came back today, dead, all Mexico ringing with his valor." General Madero wanted to send a guard of honor to accompany Oscar's return, draping the coffin with the Mexican and American flags. But because of his criminal past, the United States government forbade it.
In 1912, having read about Winnie's pension in the newspapers, Oscar's mother wrote to then President Madero thanking him for sending the body back to her, and asking for a small amount of money to cover expenses and to erect a marker on his grave. "In life he wandered far but in death he came back to me thank God and you", she wrote. According to the Boston Traveler, Oscar Wheelock was buried in the Dearing family lot in Danvers. His mother is buried in the same lot, but no headstone for Oscar has been found.
On 15 November 1951, Captain Oscar G. Creighton of the Ejercito Libertador received his recommendation for the posthumous Legion of Honor, awarded at that years ceremony at the Mexican Monument to the Revolution.
(Written by Roderick B. Sullivan, May 2004, updated based on material and research kindly supplied by Professor Douglas Nance, Universidad La Salle Nezahualcoyotl, Mexico. Updated again in Feb 2016 with information supplied by Larry Lashway.)
Notes and Sources
Most of the research for this article was done by Professor Douglas Nance, a professor of history at Universidad La Salle Nezahualcoyotl, Mexico City, Mexico. He spent several years (between 2001 and 2004) reconstructing the life of Oscar M. Wheelock from old photographs, newspaper articles, and documents from the Mexican archives. Most of the references are attributed to him.
The parents of Frances Gertrude Gately are given as William Gately and Mary Lennon by the marriage certificate, and Patrick McGrath and Margaret Conlon by the death certificate. No resolution for this conflict has yet been found. She is buried with the McGrath family in Brookline, MA.
A miss Winnie Omalley, age 19, is found in the 1910 US Federal Census, living in Brookline, MA. But this is unlikely to be the Winnie O'Malley who married Oscar. Both she and Oscar are enumerated in the 1910 US Federal Census, living in Butte, under the names Rodney H. Merrick (a pseudonym Oscar was using at the time) and wife Winnie. Both census records were taken in April, rendering it unlikely that the two Winnie's are the same. See citation 5 in Additional Notes on Oscar Wheelock.
A book by the chief surgeon of the insurrecto movement, Ira Jefferson Bush, entitled "Gringo Doctor", Caldwell Idaho, Caxton Printers, 1939, tells the following story:

"Shortly after his death [Creighton], there came a long letter from the Chief of Police of San Francisco to the Chief in El Paso, telling all about Creighton. It seems that one of the San Francisco bank vaults had been opened without setting off the burglar alarm, and the bank robbed. How it could have been done was a mystery, and the bank, the insurance company, and the police were very anxious to know about it. Finally, a newspaper notice was inserted promising that if the robber who opened the valut without setting of the burglar alarm would show how it was done, his theft of the money would not be punished in any way. A lawyer sent to the bank to investigate came away convinced that the offer was bona fide. Next day, at an appointed hour, the burglar walked into the bank, looked around, went to the vault, and opened it without setting off the alarm. Then he walked out without having spoken a word."

There remains some doubt about the veracity of this story, since there was only a short period between Oscar's departure from Butte in Jan 1911, and his arrival in El Paso. But it can't be discounted - and it's possible he went to SF prior to Jan 1911.
The Boston Traveller, 6 June 1911. A several page article in this newspaper has a picture of Oscar Wheelock, announces the arrival of his body back in Boston, and has a very colorful description of his experiences in the Mexican Revolution. The fact that he married "Miss O'Malley" is given in this article.
"Bookkeeper, Bank Robber, Mercenary, Revolutionary Hero: Who is That Man in the Postcard, Anyway?", Professor Douglas C. Nance, MSN; presented at the First International Congress: Documentary Uses of Photography in Social Research in Mexico City, Oct 28-31, 2002.
Archivo General de la Nacion, Fondo Fco. I. Madero, caja 48, exp. 1318-1, ff. 036068-74 and caja 53, libro copiador 4, f.144. correspondence from Juliet C. Wheelock (mother), and Winnifred I. Wheelock (widow) to Francisco Madero and Juan Sanchez Azcona and reply from Sanchez Azcona.
Massachusetts Archives
Additional Notes on Oscar Wheelock, written Feb 2016 by Larry Lashway, a relative of Oscar Wheelock, Olympia, Washington. This essay presents information gleaned from newspaper articles written during 1910 and 1911, when Wheelock was in Butte, Montana, and shortly thereafter, when he left Butte and made his way to El Paso.